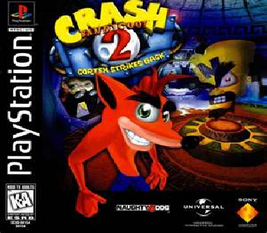 Crash Bandicoot 2: Cortex Strikes Back is the sequel to the multi-million selling Crash Bandicoot game, where Cortex tells Crash that he needs 25 Crystals to power his machine to save the world from an upcoming planetary allingment.
Glitches
[
]
Extra Gems and Crystals

[

]
In Snow Go, there is a Iron Bouncy Crate with a Seal in front of it, and if Crash bounces for three minutes on it and jumps on the Seal, there will be a small clicking sound and Crash will get an extra Gem or Crystal.
Get over 99 Lives

[

]
If Crash gets 99 Lives and earns another one, pausing and going to the Warp Room will have Crash come back with 100.
In Snow Go there is an area with a Checkpoint and and some Ice with a pit in the middle of it, there is an invisible platform on the left corner.
Remaining Planks in Boulder Chase

[

]
In the second Boulder segment of Crash Dash, Crash needs to outrun the Boulder enough to give him time to get on the Bonus Platform right when the Boulder hits the bridge. When Crash returns back to the level, several planks will remain at the other side of the pit. thumb|right|354px|This video is an example. I do not own it.
Friendly Armadillo

[

]
If Crash crawls into an Armadillo, it will not hurt him.
Get out of Ripper Roo's Boss

[

]
In Ripper Roo's Boss, there is a point where Ripper Roo gets dizzy at the bottom left corner, and if Crash hops on his head and stays there when he jumps up, Crash will be bounced up with him, and if Crash heads toward the water at the bottom of the screen, he will go over the barriers and be able to walk on the water that's there.
Dance inside the Komodo Bros
[
]
This glitch requires an Aku Aku to perform. Once the Komodo Bros are defeated Crash sould jump onto them. Crash will lose his Aku Aku and jump in the air. When he lands he will do his victory dance inside the Komodo Bros.
Oddities
[
]
Hidden Sewer Pipe
[
]
In the Eel Deal, there is a hidden sewer pipe beneath the mesh where the Bonus Platform or Green Gem platform are, there is a Sewer Pipe with a Cleaning Robot. A similar part appears in that level but has two Sewer Cleaners.
width:100%; color:blue; font-